Le Bristol Paris, in association with gallery kamel mennour, has invited two leading contemporary artists to enhance our garden and bar
May 16, 2016 –Le Bristol Paris—in association with leading gallery kamel mennour—teams up with two leading artists this May. From Daniel Buren--one of the most renowned artists in the world—using his signature 8.7-cm- (3.4-in) wide vertical stripes to develop his work in many private and public spaces at the property to Moroccan artist Hicham Berrada showcasing his work inside the property at Le Bar du Bristol through large mirrored screens illuminating a selection of carefully curated videos, the month of May will see a flourish of modern artistic showcase infused to complement the historical elegance of Le Bristol Paris.
Daniel Buren will install a spectacular, totally unique pergola (archway which provides shade) especially created for the garden space at Le Bristol- which will face the colonnade of the three-star restaurant Epicure. He revisits the common uses of the pergola by hanging five colours that will hang over the guests' heads. The colours, arranged alphabetically play with the sunlight, which is cast throughout the garden. The artist invites the viewer to explore this temporary construct and welcomes diners at Epicure to engage in a dialogue with this environment while enjoying 3-star Michelin rated gastronomy.
Enriched by his dual artistic and scientific training, Hicham Berrada's work combines intuition and knowledge, science and poetry and explores scientific protocols that closely mimic various natural or atmospheric processes with a painterly approach. Berrada's projection of ethereal and cloudy works complements the beverages and cocktail menu prepared by the in-house alchemist Maxime Hoerth, Head Barman and Best Craftsman in France.
This exhibition was initiated by Kamel Mennour and curator Florence Parot, in parallel with the opening of their new gallery space, at 28 Avenue Matignon, Paris 8th.
Garden - Daniel Buren, Une Pause Colorée, site-specific work, 2016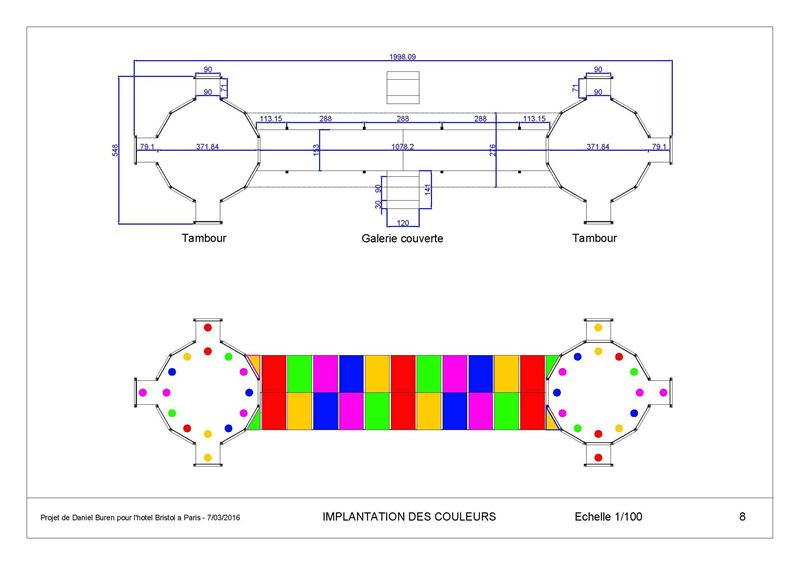 Daniel Buren, Technical drawing for a Une Pause Colorée, site-specific work for Le Bristol, Paris, May 2016
© Jean-Christophe Denise. Courtesy the artist and Kamel Mennour, Paris
Examples of "Pergolas:"