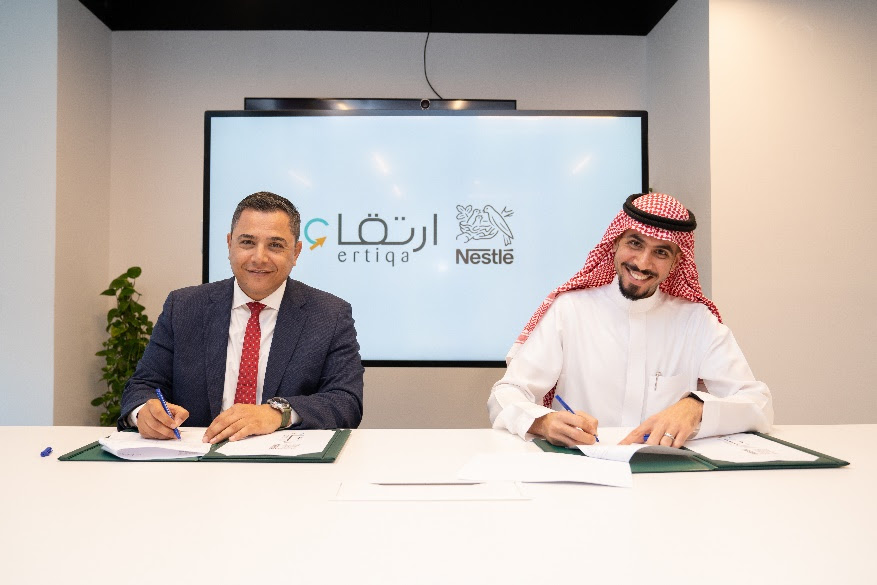 Nestlé Saudi Arabia signed a memorandum of understanding (MoU) with Ertiqa, a nonprofit organization dedicated to refurbishing used technology appliances, to donate company computers and other equipment to support educational and social institutes in the Kingdom. The agreement was signed at Nestlé's offices in Jeddah by Robert Helou, General Manager Nestlé Saudi Arabia, Bahrain, and Oman, and Omar Bin Khalid Al Shaibani, Chief Executive Officer of Ertiqa.
Commenting on the partnership, Helou said:" We commend the efforts of Ertiqa, and are happy that our equipment is being reused, and that we are contributing to providing more access to technology resources to those in need."
This collaboration builds on the successful relationship between Nestlé Saudi Arabia and Ertiqa, where to date, over 1,000 computers and technology equipment have been donated, refurbished, and distributed to local institutions in need.
– ENDS –
خبر صحفي
16 مايو 2023
نستله توقع مذكرة تفاهم مع "ارتقاء" للتبرع بأجهزة الحاسب الآلي للشركة والمعدات التكنولوجية
وقعت نستله السعودية مذكرة تفاهم مع ارتقاء، وهي منظمة غير ربحية متخصصة في تأهيل الحاسبات الآلية المستخدمة، للتبرع بأجهزة موظفي الشركة والمعدات التقنية لدعم المؤسسات التعليمية والاجتماعية في المملكة. وقع الاتفاقية في مكاتب نستله في جدة كل من روبير حلو، المدير العام لشركة "نستله" في المملكة العربية السعودية والبحرين وعمان، وعمر بن خالد الشيباني، الرئيس التنفيذي لجمعية ارتقاء.
وتعليقاً على ذلك، قال روبير حلو: "نحن نشيد بجهود ارتقاء، ويسعدنا إعادة تأهيل معداتنا ليستفيد منها مستخدمين جدد سيمكنهم الوصول إلى موارد التكنولوجيا".
ويستند هذا التعاون إلى العلاقة الناجحة بين نستله السعودية وارتقاء، حيث تم حتى الآن التبرع بأكثر من 1000 جهاز حاسب آلي ومعدات تكنولوجيا وتجديدهم وتوزيعهم على المؤسسات المحلية.
-انتهى-