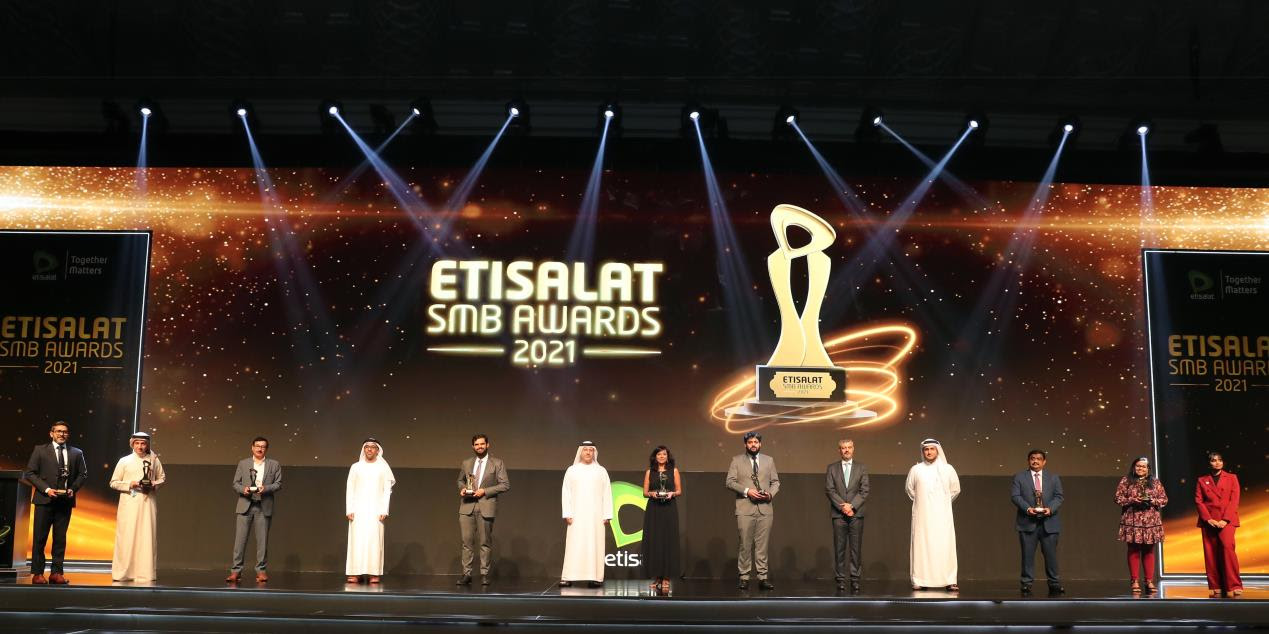 2ndedition of SMB awards receives over 500 registrations across ten categories
Dubai, 21 February 2022: Etisalat announced the winners of the second 'SMB Awards 2021' in a grand gala event to recognise and celebrate the outstanding achievements of Small and Medium businesses (SMBs) in the UAE.
The prestigious awards ceremony was attended by H.E. Faisal Al Hammadi, Assistant Undersecretary for Entrepreneurship and SMEs from the Ministry of Economy, along with senior management from Etisalat joined by more than 200 partners and business representatives from the SMB community.
In his keynote at the awards ceremony, H.E. Al Hammadi applauded the success of the SMB community and lauded the strong collaborative support of the UAE government in creating a conducive and sustainable ecosystem that is well-placed to produce successful unicorn companies in the country.
The awards recognised ten pioneering entrepreneurs and thriving businesses across ten categories. These mainly included ARJ Holding (Emirati Business), Ascentria Examinations & Tests Preparation Centre (Women in Business), Aster Hospitals UAE (Digital Transformation), Prognica Labs (Artificial Intelligence), Tecton Engineering & Construction (Top Sustainability), Route Mobile (Business Mobility), Universal Medical Transfer Services (Top Healthcare), Corporate Business Services (CSR), Edenred UAE (Technology for Good ), and Al Adil Trading (SMB of the Year).
Esam Mahmoud, Senior Vice President, SMB, Etisalat, offered a congratulatory message to all winners, highlighting their potential, resilience and agility to to differentiate their business. He said: "The SMB awards celebrate the wealth of excellence and innovation in our industry. We live and work in different times where progress is determined by how quickly and efficiently we innovate and transform for the benefit of societies, regardless of the competitive business landscape. Driven by our service mantra for SMBs 'Your Business Grows with Us,' we are proud to serve the business community in UAE as they co-create and ideate with us to drive a better and brighter digital future."
The SMB Awards, launched in November 2021, received over 500 registrations from businesses across UAE. The external jury members were industry veterans and professionals hailing from varying sectors such as Dubai Chamber, American University of Sharjah, DIFC compliance and risk management advisory firm, ADGM, Burson Cohn & Wolfe, Frost & Sullivan and Nissan Motors.