Explore the Great Barrier Reef at the Oceanographic Museum of Monaco
Monaco, August 2020 - The Oceanographic Museum of Monaco is exclusively hosting a very special guest: the Great Barrier Reef. One of the 7 natural wonders of the world will be revealed through the unique "Immersion" exhibition. The multimedia installation offers visitors the opportunity to experience a dive below the surface in order to meet the iconic species that inhabit the planet's largest coral ecosystem.
Immersion, an exhibition that pays tribute to the magnificent Great Barrier Reef
While they cover only 0.2% of the world's oceans, coral reefs are home to 30% of marine biodiversity. These cocoons of life, essential to humankind in many ways, are threatened on a massive scale. As part of its 2020 thematic programme devoted to coral reefs, with the "Immersion" exhibition as its highlight, the Oceanographic Museum allows visitors to have an in-depth view of the beauty and fragility of these ecosystems and emphasize the importance of protecting them.
Running for over a year, the prestigious Salle de la Baleine at the Oceanographic Museum of Monaco will serve as the stage for a virtual and immersive aquatic ballet: the "Immersion" exhibition. This innovative concept was conceived by the Oceanographic Museum in order to offer an experience that combines the spectacular and the engaging, with an enhanced level of interaction and an unrivalled feeling of immersion.
An immersive, interactive and communal journey to the other end of the world
Thanks to the use of advanced technologies and a real-time projection system, "Immersion" allows the public to discover and interact with an environment which is fictional in its conception, but realistic and natural in its presentation. With an experience centered around the realism of the sensation of diving, visitors - like divers during their exploration - can see the various species evolve naturally around them, as they interact according to their behavior, their movements and their gestures.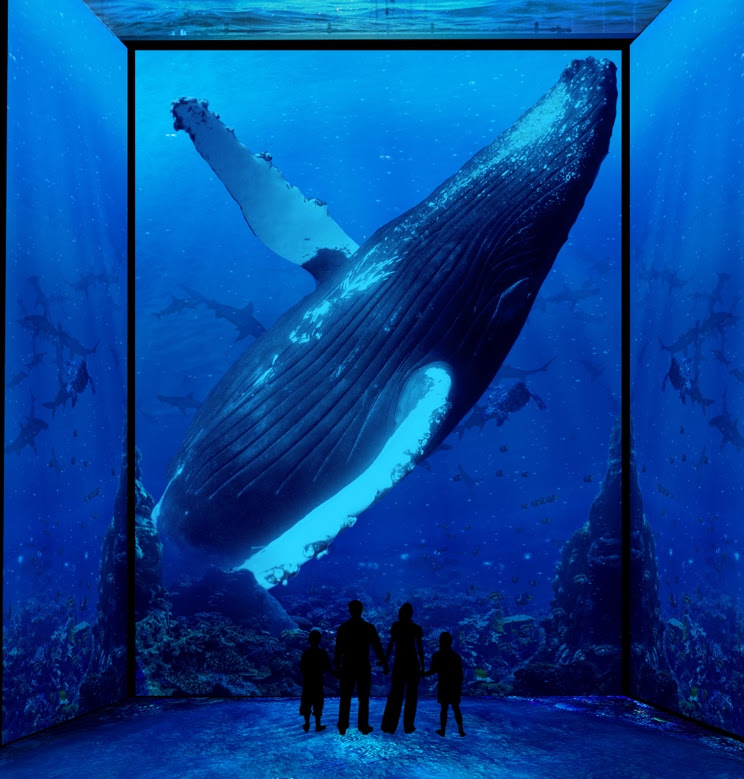 The public travels through a living environment in perpetual movement, where all encounters are possible: from the humpback whale to the carpet shark, from barracudas to fluorescent corals.
To give life to this underwater odyssey, the most advanced 3D technology is curated by an international team of designers, divers, biologists in close collaboration with the Oceanographic Museum and its partners, re-instating the Museum's mission of mediation: to create a link between humankind and an ecosystem that is generally inaccessible and unexplored.
The edutainment dimension of the presentation responds to the aims of the Oceanographic Museum, which has strived for more than 100 years to ensure that the Ocean is known, loved and protected.