by
Jen Miller
This tropical island located at the southernmost tip of peninsula Malaysia is a vibrant modern city-state. The city brings its best in
food
, nature, heritage, and culture to punch well above its weight on the global tourist map.
1.

Visit the Gardens by the Bay Cloud Forest (Tanjong Pagar)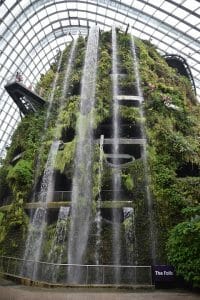 The Cloud Forest is a 35m tropical highland forest structure at the world's equator. Cool air and gentle mist shroud the world's largest indoor waterfall pouring from its side. A rich array of flora
climbing
up the cliff walls bring to mind the mythic hanging gardens of Babylon.
The tour takes about 2 hours to complete.
2.

Visit the Flower Dome at Gardens by the Bay (Tanjong Pagar)

The Flower Dome has 9 zones of plants in far-flung temperate and tropical climates; from California lilac flowers to olive groves. Drink in the planet's rich biodiversity and marvel at nature's intricate work.

Exploring the Flower Dome takes 1 hour.
3.

Night-time stroll across the Supertree Grove (Tanjong Pagar)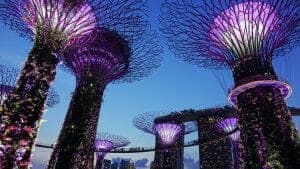 Huge giant tree-like structures ringed with lightweight plants overlook the Marina Bay.
The connecting skyway lets you stroll through the Supertrees 50m in the air to relax in the cool evening breeze. At night, the pink-and-blue neon lights around the Supertrees create an ethereal ambience.
Exploring
the grove
takes 1 hour.
4.

Visit the National Orchid garden (Tanjong Pagar)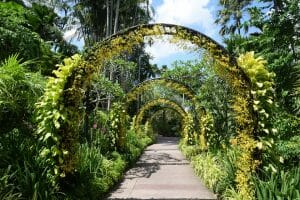 Pass through archways of golden shower orchids and admire the stately Vanda Miss Joaquim. Inhale the chocolate-and-vanilla orchid fragrance and spot large flowering orchids at other mini exhibits.
The
trail
takes almost 1 hour to complete.
5.

Visit Jurong Bird Park (Jurong-Clementi)

One of the world's most iconic bird sanctuaries, visitors get to feed colourful lories nectar from a cup as they perch over your shoulders and head. With 400 species of birds from pelicans to flamingos, visitors are bound to be wide-eyed at the dizzying colours at full flight.

The

park tour

can take up to 3 hours

.
6.

Visit the S.E.A aquarium at Marine Life Park (Tanjong Pagar)

Explore the hidden depths of Earth's oceans and seas at the

aquarium

. Gaze up in wonder at the sharks gliding majestically above you in the underwater glass dome at the Shark Seas exhibit. End your journey at the larger-than-life Open Ocean viewing panel to watch squadrons of manta rays glide gracefully amidst 40,000 colourful types of fish.

The

journey

takes approximately 2 hours.
7.

Visit the Singapore Zoo (Sembawang)
The Singapore Zoo gets visitors well-acquainted with the animal kingdom from the far flung places of the African wild plains to the North Pole. Mousedeers roam freely in front of your path while enclosures built to closely resemble the animals' naturalistic environments get you right up close with the white tiger and leopard.
The
tour of the zoo
takes up to 3 hours.
Full article found on :https://www.jenreviews.com/best-things-singapore/